Hartness Website (General)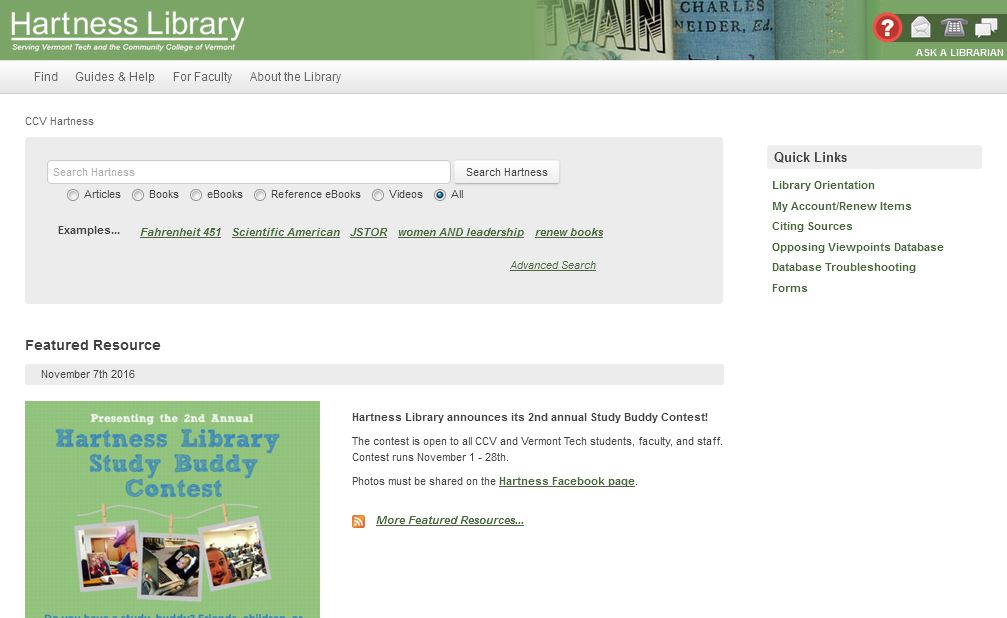 One of my primary responsibilities at my current job is development and maintenance of the Hartness Library website. (Link goes to the CCV landing page.)
The Hartness Library serves two different institutions, Vermont Technical College and the Community College of Vermont, so crafting an online presence that serves the needs of both schools can be a challenge. The strategy we have adopted is to have two similar but different "sides" of the website – one for each institution. We can then mirror content that's applicable to both institutions on both sides of the site, while still allowing for institution-specific content and design. One of my main accomplishments since I took over this site has been to clean up the back end and systematize the creation and use of shared vs institution-specific content.
In addition, since taking over the site I have put significant time into modernization of the site template (including implementing a new responsive design); cleaning up navigation, menu, and url structures; standardizing of formatting and styles; and generally cleaning up old code and bringing it into compliance with current standards and best practices.
A couple features I'm especially happy with include a contact toolbar with integrated chat reference on all pages and quick search boxes on both the CCV and VTC landing pages.
Search Hartness (EBSCO Discovery Service)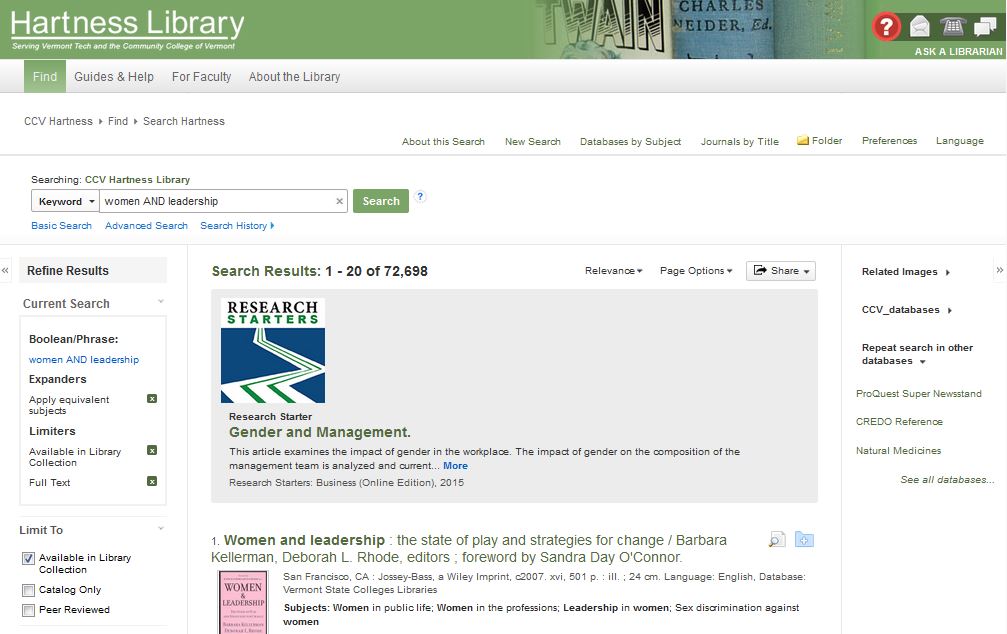 CCV and VTC recently implemented EBSCO Discovery Service (EDS). (Link to screenshot – EDS requires authentication.) As a believer in integrating content into the library website as much as possible, I have added the Hartness website framing and appropriate navigation into EDS. We have separate EDS profiles with slightly different branding for the Vermont Tech and CCV sides of the website, as well as for our journal searches.
I have also added custom source-type limiters and a range of placards that show up in response to various search terms (library information, links to specific databases, etc.)
Hartness LibGuides
Both CCV and VTC use Springshare's Libguides for subject and course guides (link goes to the CCV subject guide list), as well as a few specialized guides for other purposes. As with EDS I have added the Hartness website framing and navigation into the libguides. (Whether a guide gets the CCV or VTC menu and footer, the active menu item, and the makeup of the breadcrumbs can be controlled by the tags assigned to any given libguide.)
Library In Moodle Custom Library Links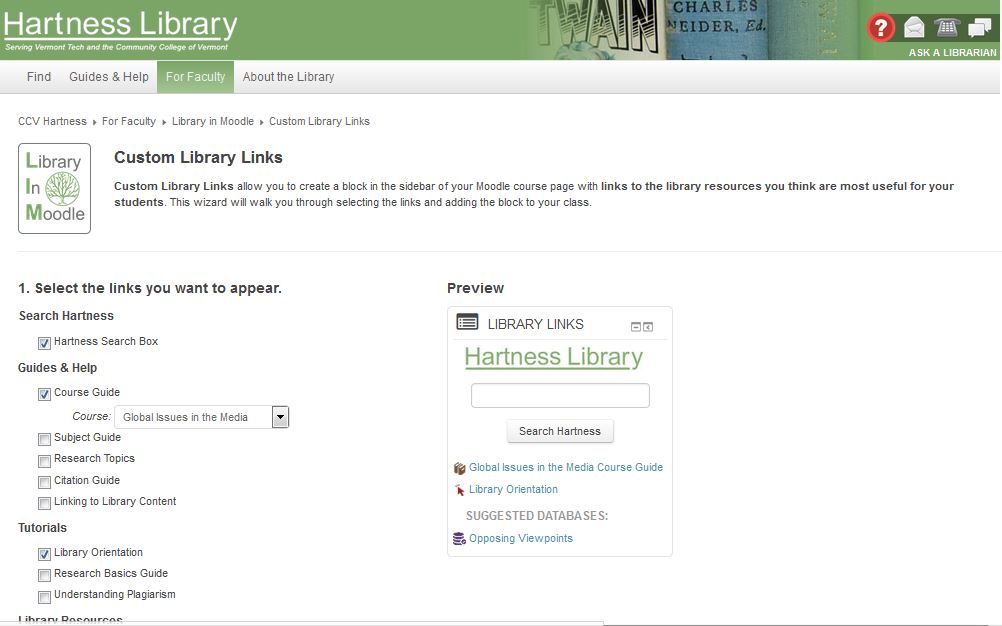 As part of CCV Hartness's new Library in Moodle initiative, I developed a widget builder that allows faculty to select library resources they want added to a "quick links" block in their course sidebar. The widget builder displays a preview of the box as it will appear in the course and then provides the faculty member with the code they will need to enter into a new HTML block to create their customized quick links.
Library Tutorials
I have created multiple walk-through tutorials for the Hartness Library that can be used as standalone learning objects or linked through Moodle. Here are a couple that I am especially happy with: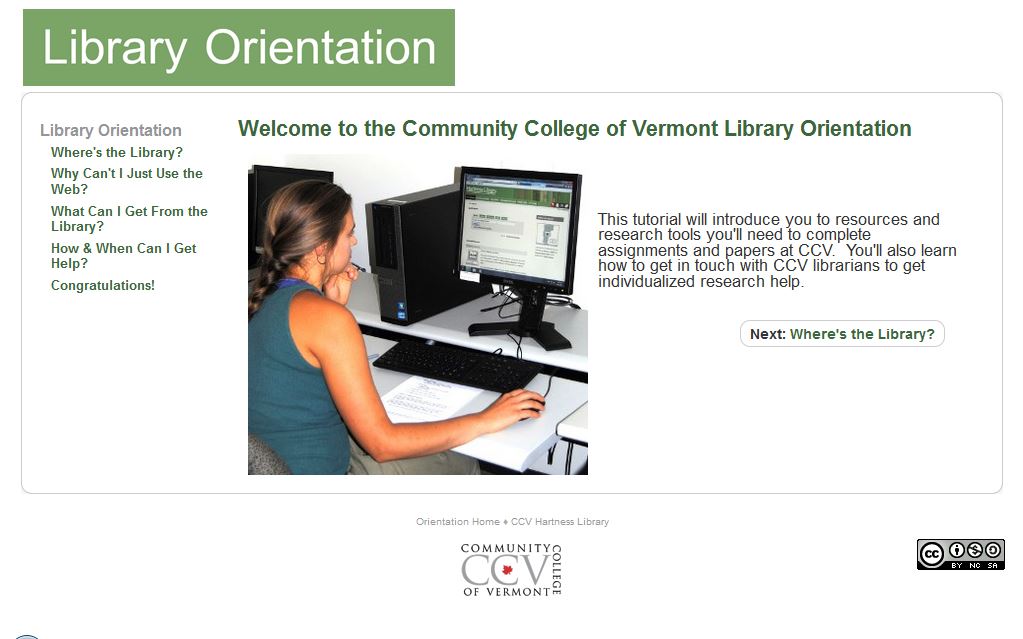 This standalone tutorial is intended to give a general overview of the Hartness library system and resources to CCV students and faculty. Of particular interest from an instructional design perspective are the "guide on the side" style Try it Out pages.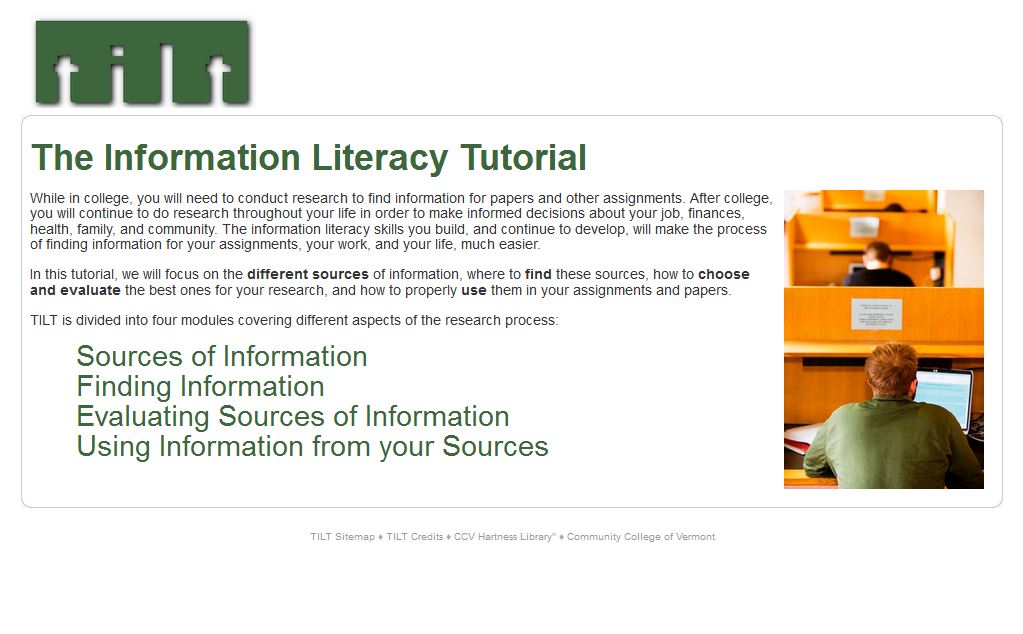 This is an update of the classic Texas Information Literacy Tutorial (TILT) that had been used by the Vermont State Colleges since the late 1990s. (The name "TILT" is about all that's left of the original tutorial, actually, but we have kept it to retain faculty buy-in and name recognition.)
While this update of TILT was originally created for the Community College of Vermont and Vermont Technical College, I have since created custom versions for the other Vermont State Colleges in conjunction with librarians at those institutions.
In addition to standalone use, I constructed a package that can be imported into Moodle course pages that combines the modules of the tutorial with targeted quizzes integrated into the Moodle gradebook.